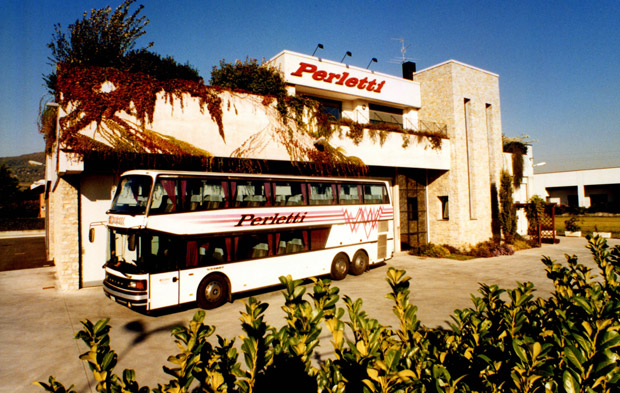 Perletti Autoservizi S.r.l. is a coach company operating on a national and international level.
The company is run by Ferdinando Perletti who has been working in the transport sector since 1971.
Set up in 1981 as a small provincial business with 3 employees and 5 coaches, Perletti Autonoleggi was determined to grow and make its mark on the market thanks to the quality of its services and the professional nature of its staff.
As a result, in 1995 Perletti Autoservizi S.r.l. was founded and today it works on a national and international level, employing 21 members of staff with a fleet of over 20 company-owned vehicles as well as partnerships, either by means of trademark or commercial agreements, with colleagues all over the region of Lombardy.In line with the initial aims and entrepreneurial spirit of the company's founder, the main characteristics of the company are:
– the professional nature and courtesy shown in managing the services and all the company operations;
– the availability of reliable drivers who, having acquired numerous years' experience in the sector guarantee maximum expertise and courtesy;
– the attention with which the vehicles, the finishes and the features are chosen in order to make your journey as comfortable as possible;
– the scrupulousness of the vehicle maintenance programme, the strict control of the drivers' rest periods and health and toxicological check-ups (as required by law) to ensure your journey is completely safe;
– the guarantee of services such as the safe-keeping of lost property, round the clock telephone contact, consultancy service for arranging journey times – timetables – itineraries, quotations sent out within 3 working days, assistance with transporting children (on request) and others;
– maximum attention for disabled or elderly passengers. Vehicles are available fitted with a platform to lift and lower wheelchairs and a special on board anchorage system, all under the supervision of our expert drivers to ensure maximum care and safety for our passengers.
The company mission is put into effect by members of the Perletti family who are responsible for the following areas: sales, programming and quality and maintenance certification, but above all they pay the utmost care and attention to handling your every need.